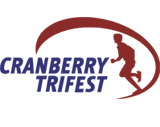 A New England classic for 15 years… Cranberry Trifest offers sprint and olympic distance races, plus a kids' duathlon and is home to the 2016 USAT Northeast Club Championship.
RESULTS from the 2016 Cranberry Trifest are available with a click here.

Now in it's 15th year, Cranberry Trifest offers a terrific weekend of racing that includes a sprint distance triathlon and splash & dash  plus a kids' duathlon on Saturday, August 20, 2016 and an olympic distance triathlon and aquabike on Sunday, August 21, 2016. Sunday's race is also the USAT Northeast Club Regional Championship (Click here for details). All events take place at the Ted Williams Camp located at 28 Precinct Street in Lakeville, MA.
Cranberry Trifest promises you safe and scenic races and the attention to the little things that add up to an award-winning race experience. You'll enjoy a festive and friendly atmosphere with a DJ, delicious post-race food, valuable giveaways and more! Additional festivities after Sunday's olympic include a live band, beer tent, and crowning of the King and Queen of Cranberry and the top teams in the USAT Northeast Club Championship.
---
Watch the video below to see what makes Cranberry such a fun and family-friendly event.
Register
Registration is still open. Please click this link to register online.