New England's most beginner-friendly multisport event! A sprint triathlon and duathlon offering a bike and run course closed to traffic, spectacular water views and a fabulous finish in historic Fort Taber Park.
The 2017 Whaling City Tri & Du will be Sunday, July 30, 2017.
The Whaling City Tri & Du is a sprint distance triathlon and duathlon (and splash & dash!)  to be held on Sunday, July 30, 2017 at Fort Taber Park at the corner of South and East Rodney French Blvd in New Bedford, MA, a vibrant and culturally rich city that is America's #1 fishing port.
The triathlon is a terrific race for beginner and seasoned triathletes alike. The 0.25 mile swim takes place in Buzzards Bay, the 12-mile bike course is flat, fast and scenic and closed to traffic and the 3.1 mile run is all on sidewalks and walking paths offering gorgeous water views and a fantastic finish in historic Fort Taber Park. This triathlon is also part of the 2017 New England Triathlon Tour.
The duathlon is a 2017 USAT Northeast Duathlon Race Series Event and features a 1.1 mile run that is almost entirely inside Fort Taber Park followed by the same 12 mile bike and 3.1 mile run featured in the triathlon.
With multiple opportunities to see athletes on the swim, as they ride the bike course, and complete an out and back run course, this is one of the most spectator-friendly triathlons in New England!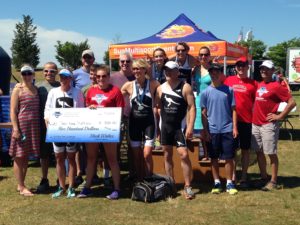 The 2017 Whaling City Triathlon will also host the 6th annual TRI TEAM CHALLENGE which offers all participating teams a chance to win prizes worth thousands of dollars including $500 cash to the 1st place team. Click here for details.
Check out past video coverage of Whaling City Triathlon below courtesy of the New Bedford Cable Network to get a feel for the race and the venue and then read on for details on the 2017 event.
---