Open Water Swimming: Fun & Exhilirating vs. Dark & Scary
Posted by sunmultisport
On Mar 15, 2016
by Elaine Vescio, Vmps Coaching, Official Coach of the 2016 Sun Multisport Race Series.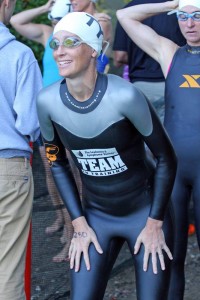 The biggest mistake that people new to the sport of triathlon make is to underestimate how different it is to swim in the open water with a group of people versus in a lane of the pool with one or two other people. You see these people at almost every triathlon. They are the ones who turn back soon after their swim begins or who need assistance from the life guards or who eventually complete the swim after spending a lot of time floating on their backs or swimming with their heads out of the water with a terrified look in their eyes. This is completely unnecessary. Several practice swims in the open water can dramatically transform how a person reacts to the novelty of a mass start triathlon swim.
Here are some of the surprises the open water swim has in store for a first timer:
It's dark.
You can't touch the bottom soon after starting to swim.
It's challenging to swim in a straight line.
It can be difficult to navigate around a crowded turn buoy.
You get breathless due to heightened anxiety and colder water temperatures.
Sometimes you get a mouthful of water instead of air when you go to breathe.
You can deal with these factors, with a little practice. The first two are givens—open water is dark and deep, but that doesn't matter. There is nothing under the water that you need to see in order to be able to navigate the swim course, and you don't need to touch the bottom to be able to swim.
Click here to read the complete article on the Vmps website.
Our Most Beginner Friendly Races