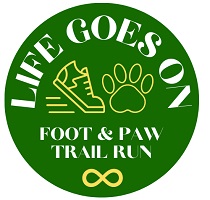 The inaugural event to support Traumatic Brain Injury (TBI) survivors… join us for the Life Goes On Foot & Paw Trail Run on June 11th!
Hit the trails of Rocky Woods in Medfield, MA on Sunday, June 11, 2023 as a solo runner or with your dog (attached by a harness) in the inaugural Life Goes On Foot & Paw Trail Run to benefit Life Goes On After TBI. Participate as an individual by running or walking the 5k or by running the 10k or you can run or walk with your dog in the 2.5 mile canicross. Then, enjoy a post-event ice cream sandwich courtesy of Bubbling Brook of Westwood!
This event will be produced by Sun Multisport Events and 100% of the proceeds will be donated to Life Goes On After TBI.
Life Goes On After TBI is a 501(c)3 charity that supports the survivors of traumatic brain injuries (TBI) by fundraising, educating and distributing grants to help offset the expense of treatments and therapies that support a TBI survivor's recovery journey.
Click here for more info and to sign up.