Sun Multisport Events (SME) is an award-winning endurance event production company based in New England offering a unique set of events for athletes of all levels of experience. Our line-up includes the RACE-MANIA Summit and Expo, a day designed to educate, equip and inspire endurance athletes on the eve of a new season… the Triathlon Skills Training Camp ,  a full day training camp co-produced with Breakthrough Performance Coaching… and Barn to Run, New England's first and only farm-based trail race series.  From 2002 to 2022 Sun Multisport Events produced an award-winning multisport race series which included the Cranberry Trifest (2002-2022), Patriot Half (2007-2022; winner "Best Small Race" in the 2013, 2017 and 2018 "Triathlete's Choice Awards" and "Best Triathlon" in the 2016 "Best of Competitor"), Whaling City Tri & Du (2007-2022) and Pilgrimman (2021-2022).
On January 30, 2023 Outsider Endurance acquired from Sun Multisport Events the Patriot Half, Whaling City Tri & Du, Cranberry Trifest and Pilgrimman. Members of the Sun Multisport Events team will help support the production of these events by Outsider Endurance through at least 2023.
Our mission is to further the passion of the endurance sports community with events that prioritize safety and superior organization… are staged from scenic venues with attractive courses… and feature generous volunteer support.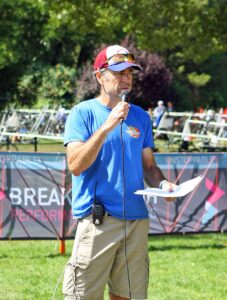 Sun Multisport Events is led by Mark Walter. A certified USA Triathlon Race Director since 2006, Mark's passion for the sport of triathlon began with his first race, the inaugural Mooseman Triathlon at Waterville Valley, NH in 2004. After years of nurturing the Sun Multisport Events business during late nights, early mornings and weekends, Mark successfully transitioned to full time management of Sun Multisport Events in February 2012. Mark continues to race in triathlons and other endurance events and in October 2018 completed his first full distance triathlon (IRONMAN Louisville).
General event inquiries? Email us at info@SunMultisportEvents.com.
Interested in sponsoring one of our events? Contact Mark at info@SunMultisportEvents.com.