Tri a Relay!
Posted by sunmultisport
On Feb 18, 2022
Are you tri curious?
For some, a triathlon — with 3 different sports — can be a little intimidating. Trying a triathlon as part of a relay team is a great way to dip your toes into the sport with a few friends or family members. I was part of a relay team for my first two triathlons and we had a tone of fun. After that, I knew I could do one on my own and from there out I was hooked!
So how does a relay team actually work? Let me explain…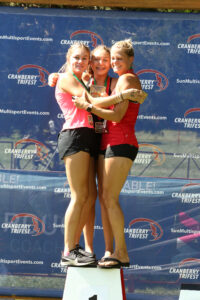 Relay teams can be 2 or 3 members which allows each member of a relay team to choose the "leg" of the triathlon they want to do — the swim, the bike or the run. All relay teams (and individuals) have an assigned position in transition where they rack their bike and can store other gear.  The swimmer on the relay team starts the swim while the biker for the team waits in transition at their rack position. After completing the swim, the swimmer runs, walks or skips into transition and passes the timing chip to the teammate doing the bike. The biker then goes off to do the bike course while the runner waits for their return. When the biker completes the bike they return to transition and hand the chip to the runner waiting at their transition spot who puts on the chip on and then begins the run. That's it!
Registering a team (for a Sun Multisport Events race… it could be different for other companies) is different than registering as an individual because there are multiple people involved. Whoever registers the team is the default captain and pays the full registration fee. Once the team is registered the captain is prompted to provide the names and email addresses of the relay team members.
Once the Captain submits the name(s) and email address(es) of team members, those team members are notified by the registration system to join the team and register themselves. This way the Captain doesn't have to know all the details of the relay team members such as address, T-shirt size, date of birth etc.
Relay team members do not have to pay any of the registration fee but will need to provide a USAT membership number. All SME events are USAT sanctioned events. If a relay team member has a valid USAT annual membership they need to provide their membership number. If they are not, they will be required to purchase a one day USAT license.
Our Most Beginner Friendly Races