Wetsuit and Skinsuits: When you can and when you can't
Posted by sunmultisport
On Aug 20, 2018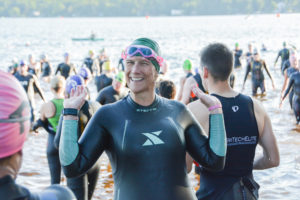 One of the most frequently asked questions before a triathlon is, "What's the water temperature?" Beyond the obvious basic curiosity of how "warm" or "cold" the water is (and what's "warm" or "cold" varies by athlete), for a USAT sanctioned event (and all triathlons produced by Sun Multisport Event are USAT sanctioned), the water temperature dictates whether or not you can wear a wetsuit… and, in some cases, if you wear one whether or not you are eligible for awards in your category. So let's get right into the implications of water temperature per USAT rules:
If the water temperature is 78.0 degrees F or less on race morning all participants may wear a wet suit and be eligible for rankings and awards.
If the temperature is between 78.1 and 83.9 degrees F on race morning, participants may wear a wetsuit, but will not earn points towards their national ranking or be eligible for awards (they will still receive timing splits). When the temperature is in this range it is often referred to as not being "wetsuit legal".
If the temperature is 84.0 degrees F or higher, no participants will be allowed to wear a wet suit.
That covers wetsuits… but what about skinsuits? Skinsuits can be worn regardless of water temperature as long as they are on the USAT approved list of wetsuits which you can find with a click here.
Our Most Beginner Friendly Races