Patriot Half wins "Best Small Race" in Triathlete's Choice Awards for the second year in a row
January 29, 2019 – Boston, MA – Sun Multisport Events announced today it's Patriot Half was awarded "Best Small Race" (less than 1,000 athletes) in the "Triathlete's Choice Awards" presented at the annual Triathlon Business International conference. This is the second year in a row the Patriot Half has won this award and the third time since 2014 — the most of any race in the category. The Patriot Half is a half distance triathlon (1.2 mile swim, 56 mile bike, 13.1 mile run) based at Cathedral Camp in East Freetown, MA. The 2019 race will be Saturday, June 15, 2019.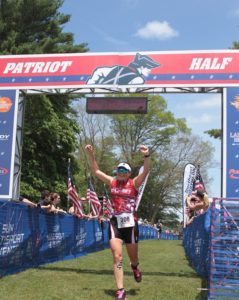 The Patriot Half has been a popular race since it was established in 2007. The race has consistently sold out months in advance of race day with 850+ athletes. While the majority of participating athletes are from the New England states of MA, NH, VT, ME, RI and CT, the race attracts athletes from 15-20 states in the USA as well as Canada and other countries. Patriot also includes a popular Aquabike division (1.2 mile swim, 56 mile bike).
"We are honored to have won this award again" says Mark Walter, President of Sun Multisport Events and Race Director for the Patriot Half since it's inception. "Patriot is a special race that thousands of athletes have chosen as their first half distance triathlon. That experience has created a bond with the race that brings many of them back year after year. We can't wait to deliver another award-winning experience to Patriot athletes in June".
About Sun Multisport Events:
Sun Multisport Events (SME) is an award-winning endurance event production company based in Massachusetts. SME offers a unique set of events that attracts a diverse set of endurance athletes. In addition to the Patriot Half, SME produces sprint and Olympic distance multisport races; "Barn to Run", New England's first and only farm-based trail race series; and the RACE-MANIA Summit and Expo, the definitive kick-off to the new endurance season. In addition to SME's Patriot Half winning "Best Small Race" (2018, 2017, 2014) in the Triathlete's Choice Awards and "Best Triathlon" in the Best of Competitor (2016; Northeast), SME won "Best Triathlon Series" in the 2014 Triathlete's Choice Awards. Visit the Sun Multiport Events website to learn more.
Media and Sponsorship Inquiries:
Mark Walter
Owner, Sun Multisport Events
Phone: 781-414-0437
Email: info@SunMultisportEvents.com
Back to News